Weather in the San Juan Islands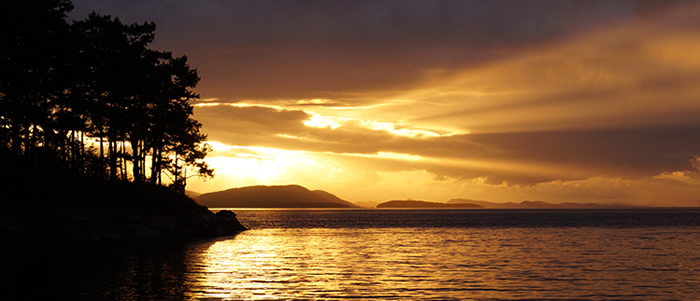 People are often pleasantly surprised by the weather in the San Juan Islands. Nestled warm and dry in a rain shadow formed by the Olympic Mountains and Vancouver Island, the San Juans average 247 days of sunshine a year. Dry conditions form micro-climates on some islands where you may even find dwarf cactus. While it is possible you could find it raining on the mainland, it is very likely that once you are out in the San Juans the weather will be much dryer. For this reason the area has been nicknamed the banana belt of the Pacific northwest.
We are often asked "when is the best time of year to come?" Since we do not operate our trips during the stormy season or wet months, all of the weeks we offer our cruises have excellent chances for good weather. If we do get rain it seldom lasts for more than one day of the trip. Our cockpit area on the sailboat is covered with a large canvas top so you will always stay dry and the interior of the yacht is heated with a hot water furnace during cooler weather.
Spring & Fall weather offers peace, solitude and nearly empty anchorages which are some of the reasons why we love sailing in the spring and fall. During spring the islands are fresh and green with renewed growth and wildflowers abound. Due to the rain shadow formed by the Olympic Mountains we often have surprisingly good weather!
We also have more eagle sightings in the spring than any other time of year! June offers wonderfully long days with daylight lingering to 10:00 PM. September through mid October is another favorite time for us to be in the islands because the weather is usually very nice and the trees are starting to change color. The spring and fall also offer excellent value as we discount our trips at these times of the year.
Summer: Typically July, August and early September tend to be the warmest and driest months, (which means you need to book these times well in advance). Summer's wonderfully warm days cool off to perfect sleeping temperatures at night. With daylight lingering in the early summer there is always time for plenty of activities, or an afternoon nap. If you join us in August, the meteor showers put on a terrific show for stargazers from Northwind's deck.
Our personal pledge…
Sail the San Juans is dedicated to protecting the islands from which
we take our living. We promote lower impact sailing trips. Help us preserve
this archipelago for generations to come.