Inside Passage Sailing Cruises – 12 days
NOTE: We also offer a 12 day San Juan Island trip that is not listed on our website. Contact us for more details.
Desolation Sound/Princess Louisa Inlet – Inside Passage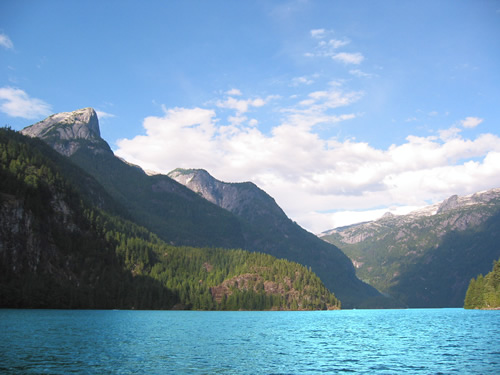 Back in 1991 we decided to explore the idea of creating a longer getaway for those searching for more of a wilderness experience. Our search focused on the southern Inside Passage areas of Desolation Sound and Princess Louisa Inlet, located along the British Columbia coast.
Princess Louisa Inlet offers spectacular 5000 ft fjord-like reaches, distant ice fields, and waterfalls that plunge into the sound. It is said by many to be a "Yosemite at sea level." Desolation Sound is the ultimate destination for many Northwest sailors. Its remote location offers unsurpassed vistas and a variety of world class anchorages. Beautiful mountain scenery and the warmest water for swimming on the northwest coast can be found here.
Both of our 12 day sailing adventures offer spectacular scenery and a true wilderness experience aboard the comfort and safety of Northwind. These cruises are ideal for return guests who have already sailed in the San Juans and are looking for more of an extended wilderness experience. Inside Passage trips are generally available only for private parties reserving the whole boat.
12 day Itinerary to Desolation Sound with a Princess Louisa Alternate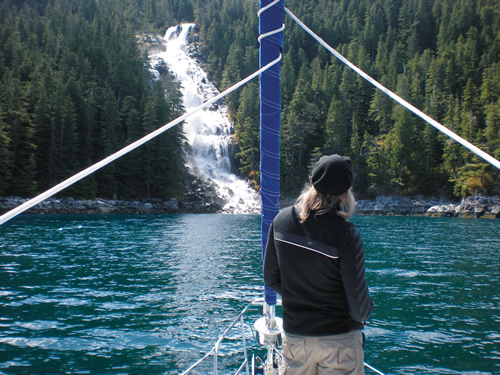 Day 1-Sunday-2:00PM: After we get you settled aboard Northwind we will set sail from Bellingham to Sucia. This is one of the northern most islands in the San Juan chain and one of our personal favorites. We will get anchored and enjoy the views of Mt. Baker. If you like we can go ashore after dinner for a sunset walk.
Day 2-Monday: We depart early to cross into Canada and clear customs at Bedwell Harbor on Pender Island. We will sail north and overnight in a bay south of Dodd Narrows. If the wind is blowing from the south we enjoy anchoring in the North Cove on Thetis Island.
Day 3-Tuesday: Today we're bound for Dodd Narrows (a tidewater rapids) at slack water and we will proceed to Nanaimo on Vancouver Island. Nanaimo is the 3rd largest city on 300 mile long Vancouver Island. We will take on water and fuel as needed. We will be docked at a marina so you can check out the town. If city life is not for you then head over to Newcastle Island and explore miles of trails. We will eat dinner out tonight.
Day 4-Wednesday: Early morning departure to cross the Strait of Georgia. The distance is 17 miles to Welcome Pass. We may go onto beautiful Ballet Bay on Nelson island. This is a great place to go kayaking! At this point we can either head east up the fjords to Princess Louisa Inlet or north for Desolation Sound.
Let's start with Princess Louisa Inlet and you can pick up with Desolation Sound on Day 4.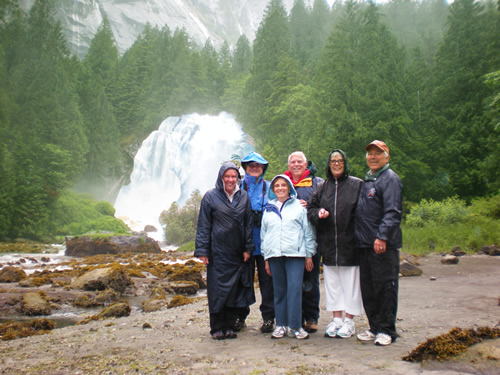 Day 5-Thursday: From Ballet Bay we head up Agamemnon channel (say that 10 times, fast!) bound for the Harmony Islands in Hotham Sound. If we can catch a prevailing breeze we may sail. The first waterfall you see is coming from Freil lake. We may choose to anchor in Hotham Sound for the night. It is often warm enough to swim here in the summer!
Day 6-Friday: Today we will motor up Jervis Inlet as it narrows and turns into Princess Royal Reach. All along the mountains seem to be getting closer as the fjord narrows. Look for indian pictographs on the rock faces! Our goal is to navigate Northwind through Malibu Rapids at slack tide and enter Princess Louisa Inlet. Once inside the inlet, the passage narrows to 1/4 mile wide and the mountains stretch over a mile high into the clouds. It is truly breathtaking. At the end of the four mile inlet awaits the awesome Chatterbox Falls. It is especially impressive in the spring or early summer when the snow is melting from the ice fields high above. (after a heavy rain we have counted over 40 other waterfalls in this area) We will tie up to the floats so you can walk to the falls.
Day 7-Saturday: There are some beautiful hiking trails here for the adventurous. You might spot mountain goats on the cliffs, or bear in the area if you're lucky. This is also an excellent place to go for a paddle in the kayak. At high tide you can kayak close to the falls for an incredible view! Now you understand why many have called Princess Louisa Inlet the "eighth wonder of the world."
Day 8-Sunday: Finally it is time to say goodbye to the Princess. We make an early departure with the tide through Malibu rapids and head down the Sunshine Coast for Smugglers Cove Marine Park (a cute anchorage with some nice hiking trails). Please pick up with Day 9 for the return leg to Bellingham.
Desolation Sound – The Inside Passage –  Continued: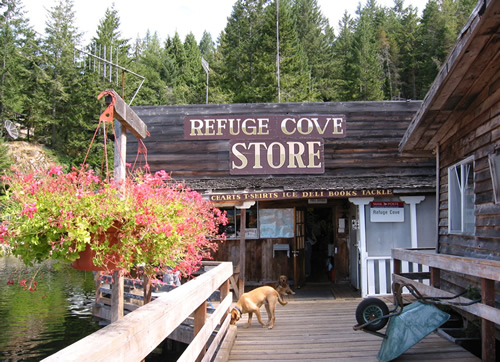 Day 4-Wednesday: We continue our long passage up the Sunshine Coast all the way to Desolation Sound. If it is clear as you round Sarah Point, there are some awesome mountains to see! Our anchorage for the night will be our own secret spot up Malaspina Inlet. After anchoring you will have time for kayaking or exploring on shore.
Day 5-Thursday: Today we head up Lewis channel to Teakerne Arm and check out Cassel Lake Falls, then it's on to Sutil Channel to explore scenic Von Donop Inlet. Great hiking and kayaking possibilities in the coves around the inlet.
Day 6-Friday: We are going to head up Pryce Channel for its beautiful mountain views then down Waddington Channel to overnight at Roscoe Bay. You will find some nice hiking trails ashore and maybe an afternoon swim in warm Black Lake. We have a great swimming hole. Otherwise as an alternate it is just a short hop over to beautiful Prideaux Haven anchorage for the night. This has the best view of the mountains and wonderful coves to explore by kayak. Beautiful hiking trails here as well. A great place to kayak through warm shallow tidal pools with many sea stars.
Day 7-Saturday: We will head over to Refuge Cove in the morning to take on fuel, water and provisions, then we head up Okeover Inlet. Tonight we eat out at the Laughing Oyster Restaurant.
Day 8-Sunday: It is time to leave Desolation Sound. We make an early departure and head down the Sunshine Coast for Smugglers Cove Marine Park (a cute anchorage with some nice hiking trails).
Both Desolation Sound & Princess Louisa Inlet continue here for the return passage.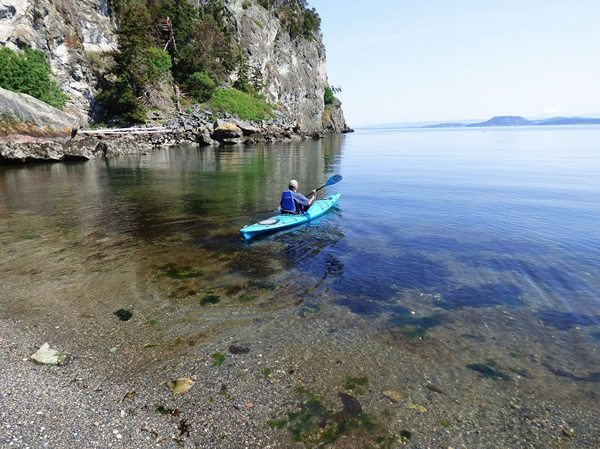 Day 9-Monday: We cross the Strait of Georgia in the morning and enter Silva Bay on Gabriola Island. A pretty bay that is protected from the winds of the strait. We will spend the afternoon exploring ashore.
Day 10-Tuesday: We let the morning tide take us through Gabriola Pass. We will head south and end up near the border at an anchorage somewhere in the Gulf Islands. One of our favorites is cute little Selby cove on the north end of Prevost Island.
Day 11-Wednesday: Today we cross back into the US and we head all the way to Friday Harbor to clear customs. Once cleared we head for upright channel and cross Rosario Strait for our anchorage at Cypress Island. Another of our favorite spots in the San Juans.
Day 12-Thursday: We chart our final leg back to Bellingham. We will try to have you back to the dock around noon.
Cruise notes: We generally recommend passages to Princess Louisa Inlet in the late spring or early summer for the best waterfalls. Desolation Sound is perfect for anytime but our favorite is early July or late August.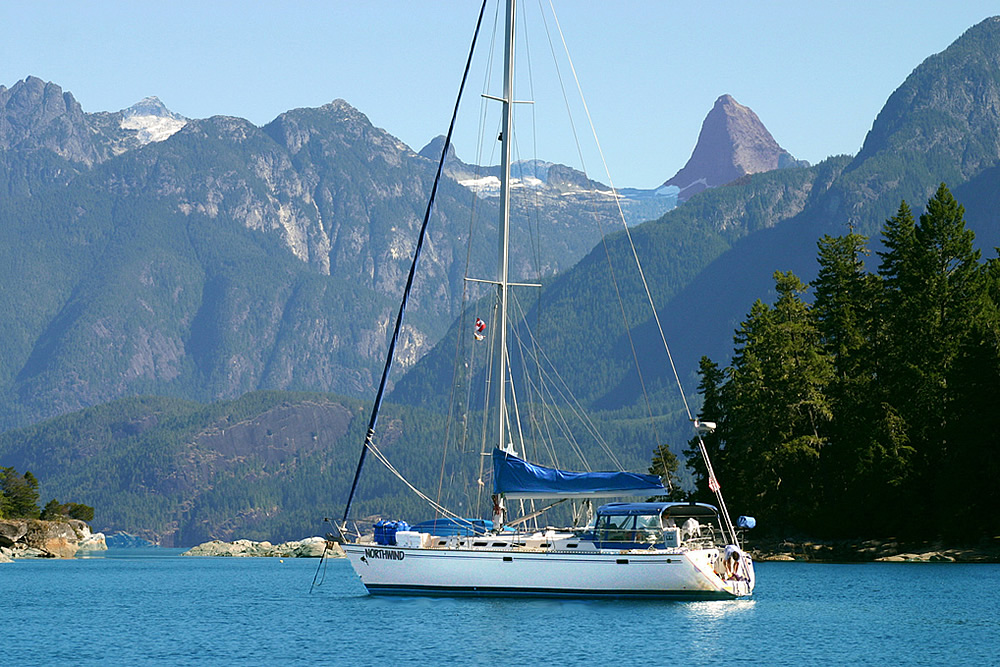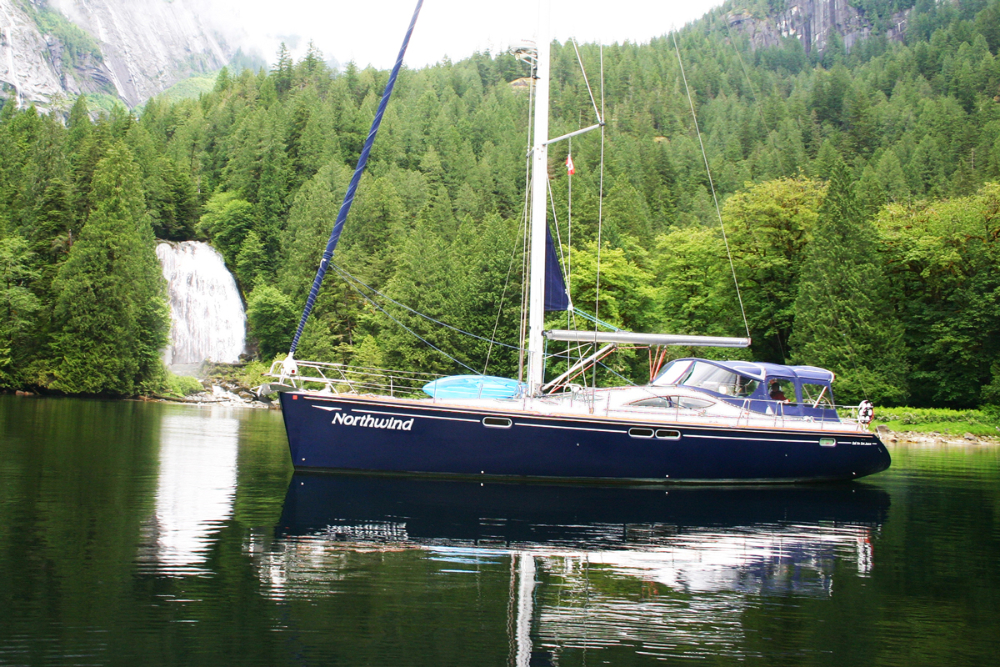 Check availability by viewing our Sailing Schedule, or
Call us toll free at (800) 729-3207 or contact us to book your
Inside Passage chartered sailing cruise today!