The Northwind Experience
People often come to us in the San Juan Islands trying to find something in themselves that is missing from other trips. There is a certain mystique quality about sailing these sheltered islands where the wind, sea and Orca come together that resonates inside each of us differently. Sailing the San Juan Islands aboard Northwind is a relaxing experience, we travel slowly at about 6-8 knots which invites opportunities to see wildlife like porpoise, seals and whales up close without disturbing them in their natural habitat. Since we only take six guests each week, your time aboard is as intimate and carefree as possible. Island hikes offer chances to see beautiful viewpoints and overlooks, while solo time in a kayak might bring you face to face with a family of otters as you paddle through quiet bays.
Our goal in acquiring Northwind was maximizing comfort for our guests. With that thought in mind she offers the largest cockpit in her class and an impressive salon area that is crafted in teak and leather. All of her guest cabins feature private head compartments with powerflush toilets and opening ports or hatches. Little touches like high threadcount sheets and thick custom mattresses insure a restful night's sleep.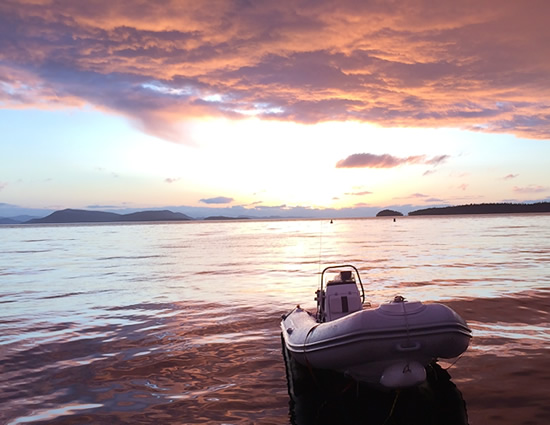 If you're a foodie like us, then great cuisine is an important part of every respite. Chef Jette takes great pride in using fresh, local ingredients and seasonal produce to work her own flare into creative dishes that will make your sense of taste come alive! Checkout some of our recent reviews to see what others have said about her culinary creations.
After 30 years of running cruises in the San Juans and four charter boats behind us we think we have a pretty good idea of what makes a great crewed sailing charter. It starts with a renowned crew welcoming you aboard a magnificent sailing yacht and combines award winning cuisine with the stunning backdrop of the San Juan Islands. Our guests come away with a feeling of being well cared for and refreshed in a way that is not normally associated with being on vacation.
Like the tide, each day is different as we seek to explore and discover the islands together. We hope you will join us aboard Northwind and see what a carefree and rewarding experience our sailing vacation can be.
~ Jon & Jette Baker
Sail the San Juans